The Head of Caravaggio for the Apostles

2019
Fat (beef tallow, stearin)
75 x 107 x 5cm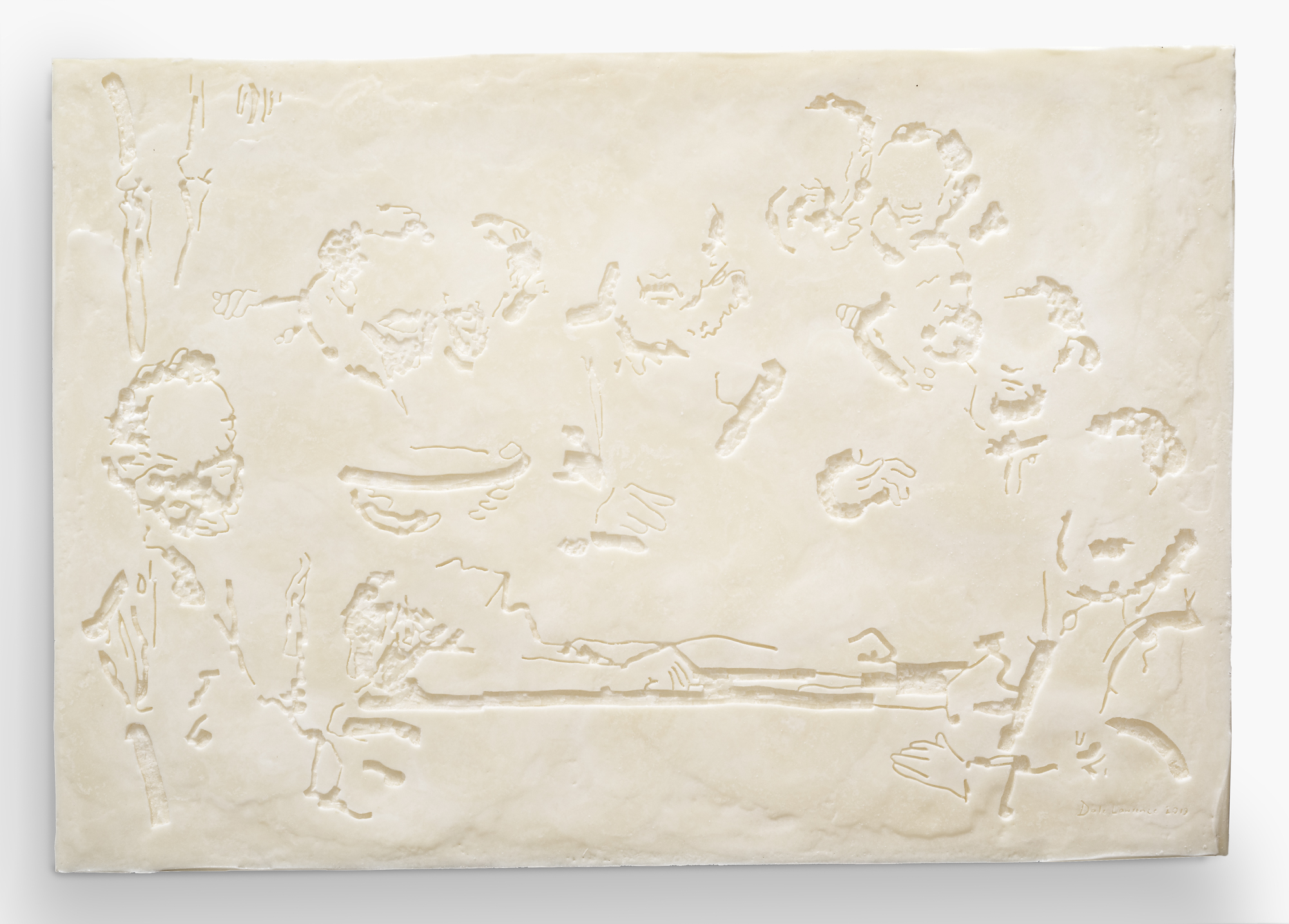 The Anatomy Lesson of Robert Mapplethorpe

2019
Fat (beef tallow, stearin)
75 x 107 x 5cm
Solid slabs of animal fat into which is carved images drawn from classic oil paintings. Fat is at once a source of energy, warmth, healing and flavour, a tell-tale sign of excess and imbalance, and a container of violent history.
The first work depicts a mash-up of two works by the 16th-century Italian painter, Caravaggio: David with the severed head of Goliath (a self-portrait by the artist) has replaced the figure of Jesus Christ on the eve of his crucifixion as he appeals to his disinterested, reclining disciples. Caravaggio's excessive depictions of violence simultaneuosly repulsed and delighted his bourgeois audience.
The second work is a remake of a 17th-century anatomy lesson, where a crowd of students eagerly surround a doctor who stand over the body of a subject. Rather than a cadaver, the subject is Robert Mapplethorpe's portrait of James Ford lounging in a bathtub. Mapplethorpe's bather, in all his opulence, appears to be directly modelled on the cadavers featured in Dutch anatomy lesson paintings. The painters of those works apparently modelled the composition of their cadavers on earlier Renaissance paintings of the crucified body of Jesus Christ on a stone awaiting internment.
Through history, common tropes and motifs permeate our art, and their slow evolution tracks the changes in attitudes and perceptions. These works track the shifting acceptability of violence in Western culture, suggesting that violence is always acceptable within a culture in prescribed forms. These forms evolve over time and vary from culture to culture, making us more aware of the violence of others than the violence embedded in the world around us.