FURTHER PROTOTYPES
4 Sept.—12 Oct. '19






Seen and Not Seen, 2019

Bathtub, water, soap, cotton towel, cotton bathmat, towel rail, soap dish
155 x 200 x 150cm

Duration: 40 days



A bath, with towel on towel rail, soap and bathmat are installed in the gallery. Every day before the gallery opens, for the duration of the exhibition, the artist has their morning bath. The bather is not seen, but the evidence is there in the form of a ruffled towel, wet mat and dirty bathwater.














Tragedy of the Rainbow Warriors (after Jannis Kounellis and Francois Pienaar), 2019

Chip packets, side table, brass bowl, Lay's Lightly Salted chips, shelf, mobile phone, charger, plug, 311 x 322 x 80cm





A remake of Jannis Kounellis' Tragedia Civile (1975), drawing on the character of Francois Pienaar to restage the work in semi-contemporary South Africa.

Instead of Kounellis' gold-leaf-festooned wall and coat rack with overcoat and hat, a bowl of Lay's Lightly Salted chips is placed on offer in front of a wall covered in flattened chip packets of the same type. On a shelf, a mobile phone is on charge, receiving an almost constant stream of news updates from many sources on an endless array of topics of competing urgency.

The title of the work is derived from the front page of The Sunday Independent, 25 June 1995, which features an image of Nelson Mandela handing Pienaar the Rugby World Cup trophy – an image that has become iconic in South Africa as a symbol of reconciliation and unity – accompanied by the headline 'Triumph of the Rainbow Warriors'.

The chips make reference to the arrival of Lay's in South Africa following end of apartheid and the lifting of sanctions. Lay's came to represent a new global sophistication for middle class South Africans to aspire to, once again with Pienaar at the fore as the face of Lay's in their advertising.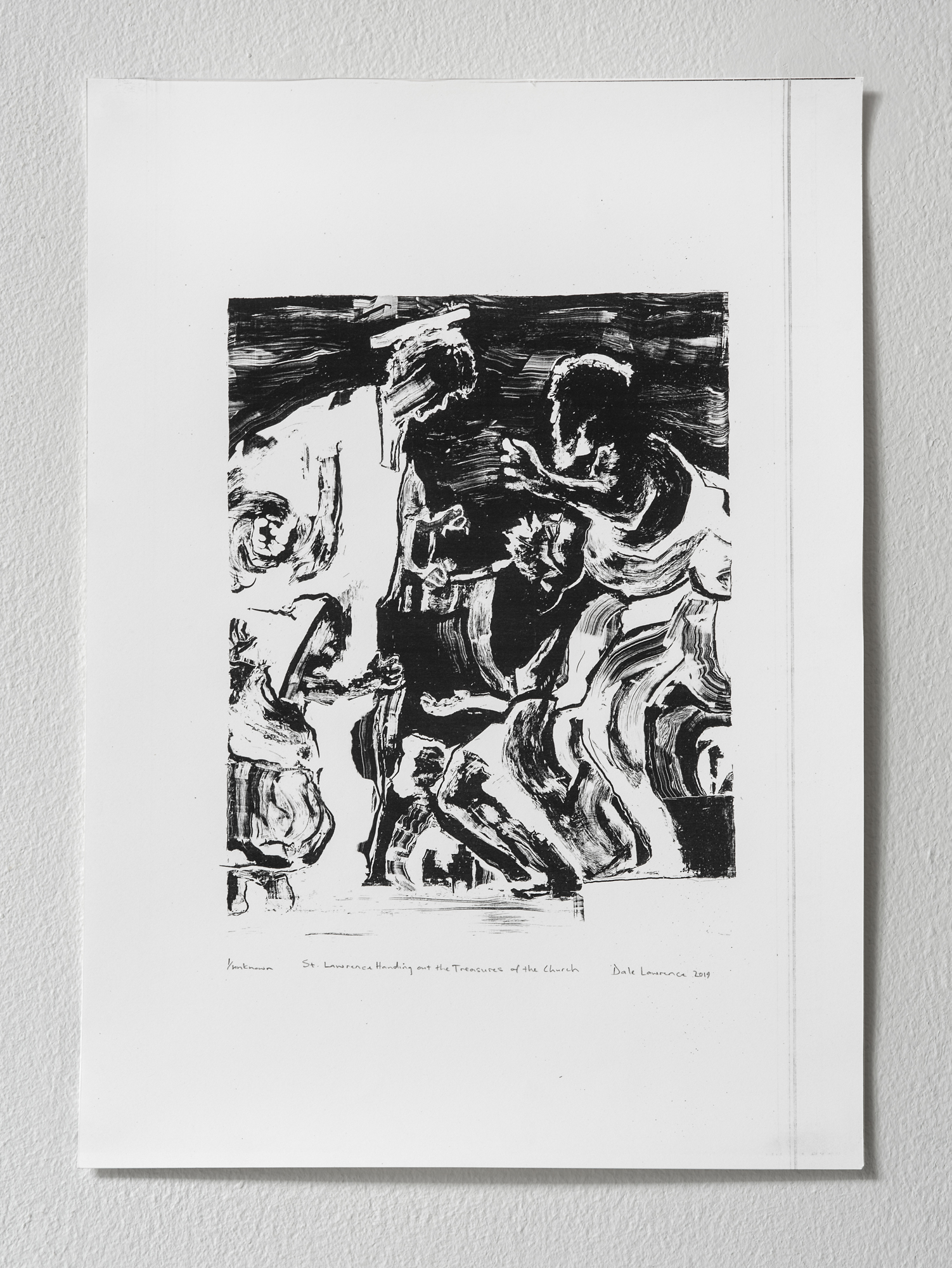 St. Lawrence Handing out the Treasures of the Church, 2019

Oil on photocopier, toner on paper, 110 x 65 x 60cm (prints 42 x 30cm)

Open edition

Duration: 40 days



An oil painting made in white on the glass of a photocopier becomes a printing plate, turning the photocopier into a printing press. Papers are signed and numbered as an open edition and placed into the print trays. Viewers are invited to activate the photocopier, making their own signed print. Prints are available thoughout the exhibition (first edition concludes 12 Oct. '19).
Self-portrait under the Lamp, 2019

Chair, desk, laptop, notebook, pen, coffee, mug, lamp, 400 x 120 x 100cm
Featured at FNB Art Joburg 13—15 Sept
. '19





Amateur Hour and After "The Capture of the Golden Fleece" (or maybe just a fleecing), 2018

Ink on paper, chairs, oil on linen
Exhbited as part of Amateur Hour, a solo presentation at FNB Joburg Art Fair, 2018














Waste Management, 2017

Linocut on paper, monotype on paper, glue

Linocuts and monotypes, taken from my archive, torn into strips and assembled to form a stack.














Rocking Chair, 2016

Linocut on paper













Folding Underwear, 2016

Linocut on paper















My Inspiration for This Piece, 2010

Offset lithography on paper